There has been a lot of craze going for NFT in recent years. People have realized that it is the future. This craze can be justified by looking at the sales volume. In 2021, its sales volume was $40 Billion, which will almost double in 2022. There is much development going on in the NFT world. As the space grows bigger and better, many new digital artists and marketplaces are coming. They are making the NFT space much more accessible for people to understand and use.
Recently, another name has been added to the list of entries. Liquid Death has just announced their whitelist(Murderlist) for their NFT. They released their first limited-edition NFT collection of 6,666 unique and funny severed heads. This Muderlist will give chances to the interested buyers to get ahead in line before the mint.
Murder Head Death Club NFT
This new limited-edition collection will be available to mint in March for 0.0666 ETH. Murder Head Death Club NFT collection is designed by Will Carsola, a renowned name in the digital art world. In addition to this, these NFT collection holders will get several perks and benefits for owning this NFT.
They have access to private discord communities, virtual events, and other real-life perks. They will get NFT-branded merch drop first. Buyers of this NFT artwork will get the chance to be featured in the Liquid Death commercials and have their faces tattoed on by the CEO of Liquid Death. They will also get an opportunity to be the CEO of Liquid Death for one day. Also, there will be many more benefits given in the later half of the project development.
Liquid Death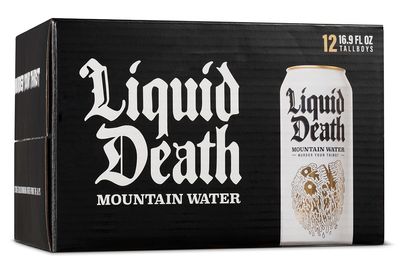 Mike Cessario founded liquid Death. It is a canned-water company whose tagline is "murder your thirst." Its water is sourced from the Austrian Alps, considered one of the purest water available on the earth, and canned in Austria. Their drink is sold in a 500 ml "tallboy" drink can. Their drink got launched in 2019 and is currently valued at $525 million. Since its launch, the company has gained many profits. They have also expanded their brand to the US Whole Food Market and two hundred 7-11 stores in San Diego and Los Angeles.
They are also working with Pachama to offset their highest calculated carbon emissions by 110%. In addition to these, a portion of these proceedings will go to non-profits organizations to fight against carbon emissions and plastic pollution and distribute clean drinking water to ordinary people.
Liquid Death takes a page out of the books of other beverage brands who think NFT is no use for them by releasing their limited-edition NFT artwork collection. Some other brands have also realized this. For instance, Bottup, Ron Carupano, Dalmore Whisky have also released their NFT. Their NFT group is also performing well.
Let's see what the future holds for Liquid Death's NFT collection. Whether they will perform in the long run or like many NFTs, they will remain for a shorter period. We will keep you updated with the information regarding this. Do let us know in the comments what you think of this question.