NFT sales have seen a sudden rise in the last two years. In 2021, its total trade volume was $40 Billion, and this year is expected to go up to $60 Billion. This is happening because people have realized that NFTs are the future investment. They will stay here for a more extended period, and that's why more people are investing in this space. Due to many people investing in this space, many renowned companies are entering this space to keep pace with the world.
Recently, McLaren Automotive has announced its plans to release NFTs of their famous supercars. They are planning to introduce it as soon as possible. For this, they are in talk with Infinite World. They will take help from them not just in releasing their NFT but also while entering the space of Metaverse.
McLaren NFTs
McLaren has decided that they are going to enter the NFT marketplace. In the first half, they will release the NFT of their supercars. They have partnered with Infinite World. The infinite world is a company that helps brands to build out their Metaverse and Web3 products. McLaren has partnered because they want to improve their customer's digital experience and keep up pace with the world.
McLaren fans will be able to mint original NFTs of their supercars of McLaren. Buying these NFTs will give its owners unique benefits, exclusively available for them only.
Gareth Dunsmore, McLaren's Chief Marketing Officer, said, "This exciting new partnership will draw on Infinite World's leading experts to create and offer a wide range of digital content on the McLaren marketplace."
More Updates
McLaren plans to explore the Metaverse and Web3 space also. Their contract with Infinite World says it. Thus, Infinite World will become the first official metaverse partner of a luxury car brand.
It is important to note that McLaren is also planning to introduce its marketplace to buy and sell its own NFT and other NFTs in the later phase. If everything goes well, then it will soon release its marketplace.
How has this new move broadened the Web3 exposure of this luxury car brand?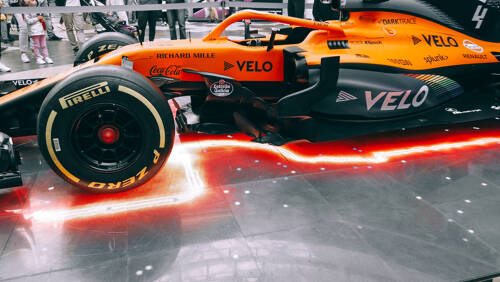 By looking at the recent developments and statements of the company, it is final that the company is not just exploring NFT but also exploring opportunities in Metaverse and Web3. This is the first NFT from McLaren Automobile, but this brand is not entirely new to NFT space. Its F1 team has already entered this space in the mid of 2021. McLaren Racing launched an NFT platform on the Tezos Blockchain in June 2021 for buying and selling of their NFT. However, it also gave fans the option to build their digital racecar NFT.
Now, they are moving forward as a company in this space and want to keep pace with the world. Because they are not the first automotive giants to enter this space. Many companies like Lamborghini and Ferrari have already released their NFT in the marketplace. They are also exploring Metaverse and Web3, which will surely give tough competition to the McLaren automotive.