Recently in the last half of the previous year, the most luxurious platform on Instagram known as 'The Trillionaire Life' has launched its first High Utility Collection of NFT known as "NFT Gurus." The Trillionaire Life is the world's most-followed page on Instagram for luxury, with more than 7 million followers. Its fan base includes many billionaires, multi-millionaires, and renowned celebrities across the globe.
Members of the Trillionaire life are known as Trillion Circle Members, and most of the Trillion Circle Members own exotic cars live a royal life. It would be correct to say that these members possess the rarest of things on earth. Its membership is also not easy and can be accessed only by invitation or member recommendation.
NFT Gurus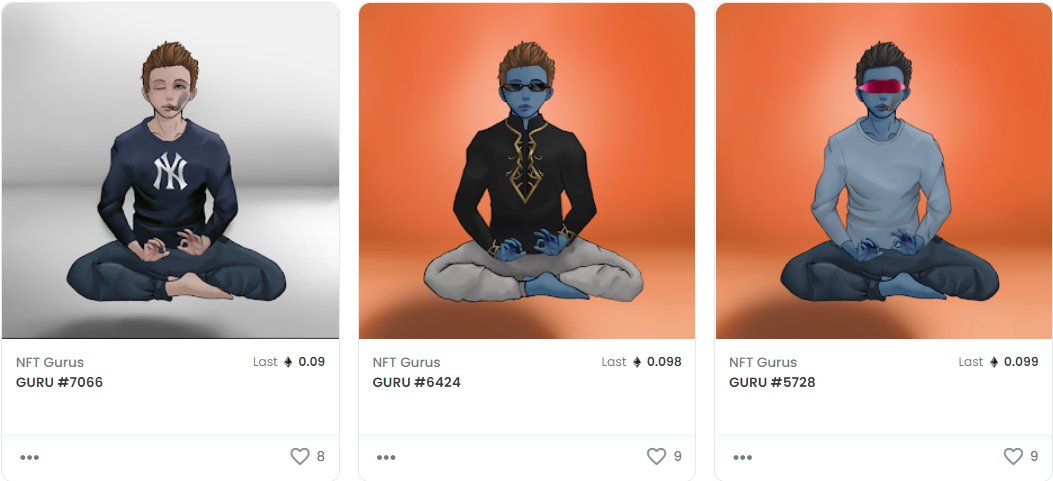 NFT Gurus is an Etherum-based NFT collection. It is a digital art collection of limited 7777 High Utility Unique Gurus peacefully meditating to cleanse negative energy and release anxiety on Etherum Blockchain. These 7777 super rare Gurus are chosen from over 50 Million possible variations with 100+ hand-drawn traits, making them unique. NFT Gurus are stored in ERC – 721 token and is hosted on IPFS. Gurus can be minted for 0.09 ETH, and each person can mint 7 Gurus per transaction.
First-generation NFT Gurus
Firstly, The Trillionaire life has launched the first generation NFT gurus who are only male gurus. Each Guru has got its unique traits. It gives holders premium access to exclusive events, NFT claims, community giveaways, and raffles.
Second generation NFT Gurus
There are updates that 'The Trillionaire Life' is thinking of even launching girlfriends, which exist in the same Metaverse. They are working on bringing female gurus in NFT Gurus 2.0.
Benefits of owning this NFT
Numerous benefits are given exclusively to members holding this NFT. Each Guru gives grant access to Members only utilities which includes:
· Celebrities meetups
· Yoga events, Meditation events, Guest speaker events
· Access to Games and events in Metaverse for a lifetime.
· Networking Parties Worldwide.
Roadmap for the Project
This project has great utility and a long-term roadmap that ensures the project's longevity. Its roadmap includes:
· 10% – Community giveaway in which Gurus will be airdropped to holders.
· 25% – Members-only merchandise and a few art stores will be launched with limited edition products and clothing.
· 50% – ETH raffle in which 7.77 ETH will be sent to NFT Guru Holders.
· 75% – They will introduce Generation 2, breeding to introduce female Guru.
· 100% – Gurus will be shown on Times Square Billboard, $100,000+ will be spent on marketing. Marketing should be done to raise the floor price and after-sales on OpenSea.
These roadmaps of the project seem pretty good, and if this is followed, it will ensure that this project will remain for a more extended period.