We all know about NFT these days. Since last year, one active on the internet has known about NFTs. NFT is a modern, effective way to help artists sell their products online digitally. It may sound somewhat weird to some individuals how can a digital artwork sold or owned by anyone but is it true due to improvise technology and Web 3.0. Those who know about NFT also know how much value it can create, and you can make millions from it just by selling your artwork. 
NFT are a modern gem for artists, and creating an NFT WordPress site would help them sell their artwork digitally in a much more effective way. We all know that WordPress is an all-in-one platform to build any website from scratch. But the problem with WordPress is that if you don't know much about coding, you can't create an excellent website. This article will provide you top 5 WordPress NFT website templates for an elevator to start without coding, which would help you make an NFT website without coding.
1. RareNFT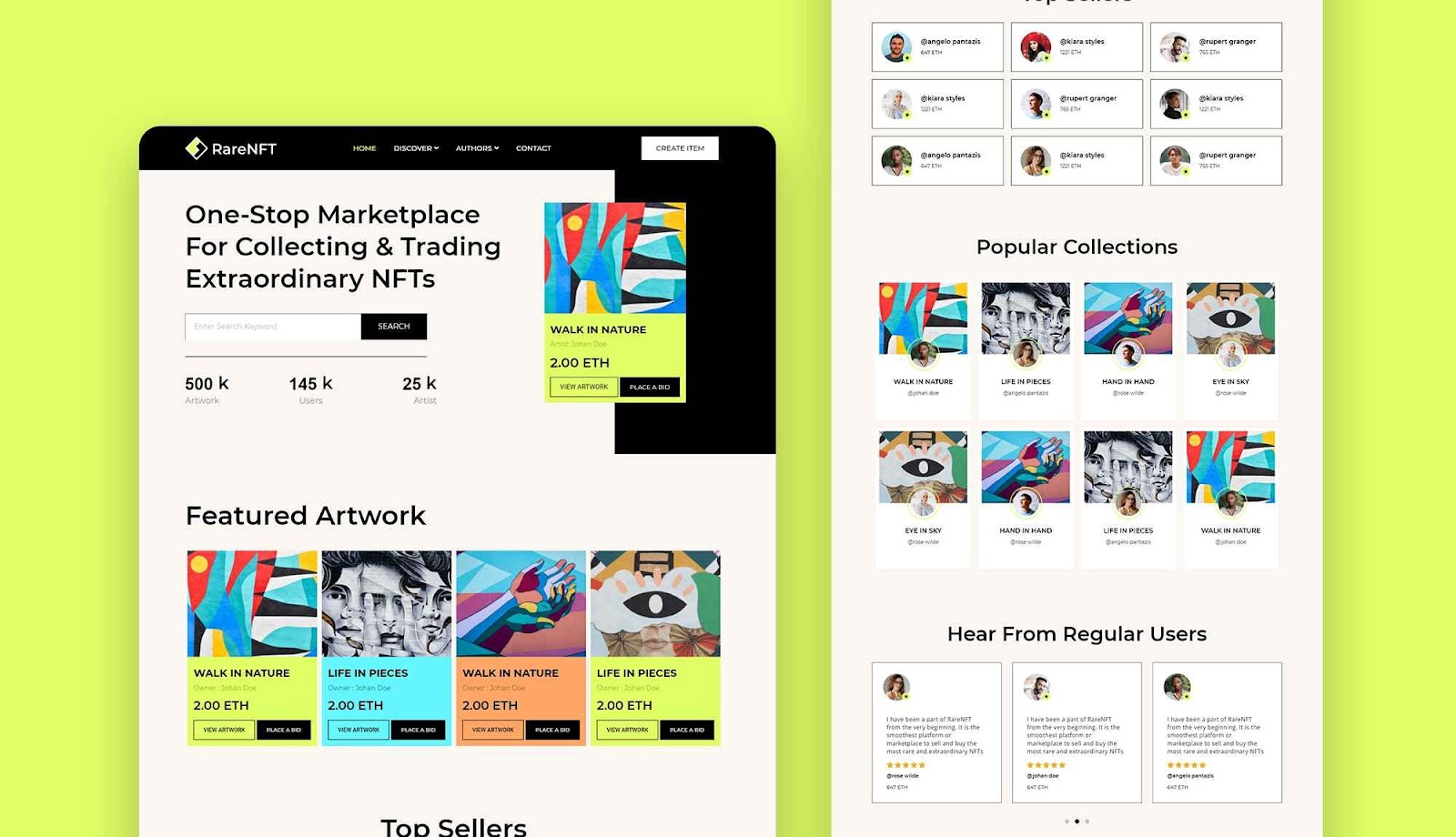 RareNFT is a user-friendly and lightweight template that will not let your site slow down. They have a trippy color theme and a lot of Elemantor customization options. Their dynamic template comes with six attractive landing pages, which will help you to increase your sales and conversion rate.
Home Page
Discover Page
Item Details Page
Author Page
Author Detail Page
Contact Page
2. NFToken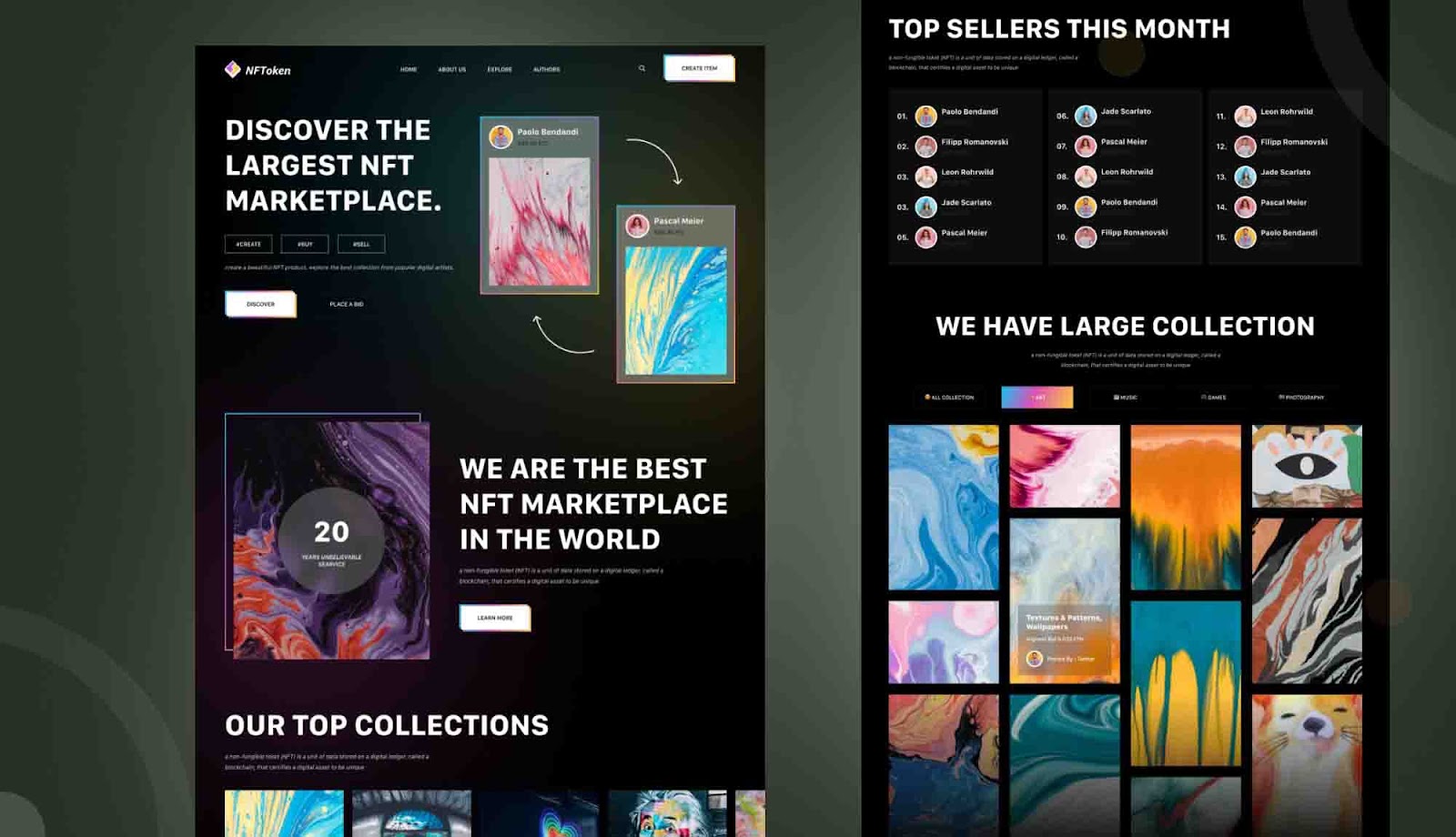 Their template packs are carefully created and developed for NFT agencies and businesses. It is designed with Elementor and Essential Addons, making it simple to create a good website. They come with seven excellent landing pages and can be implemented quickly without code.
Home Page
About Page
Explore Page
Item Page
Item Details Page
Author Page
Author Profile Page
3. NFTVault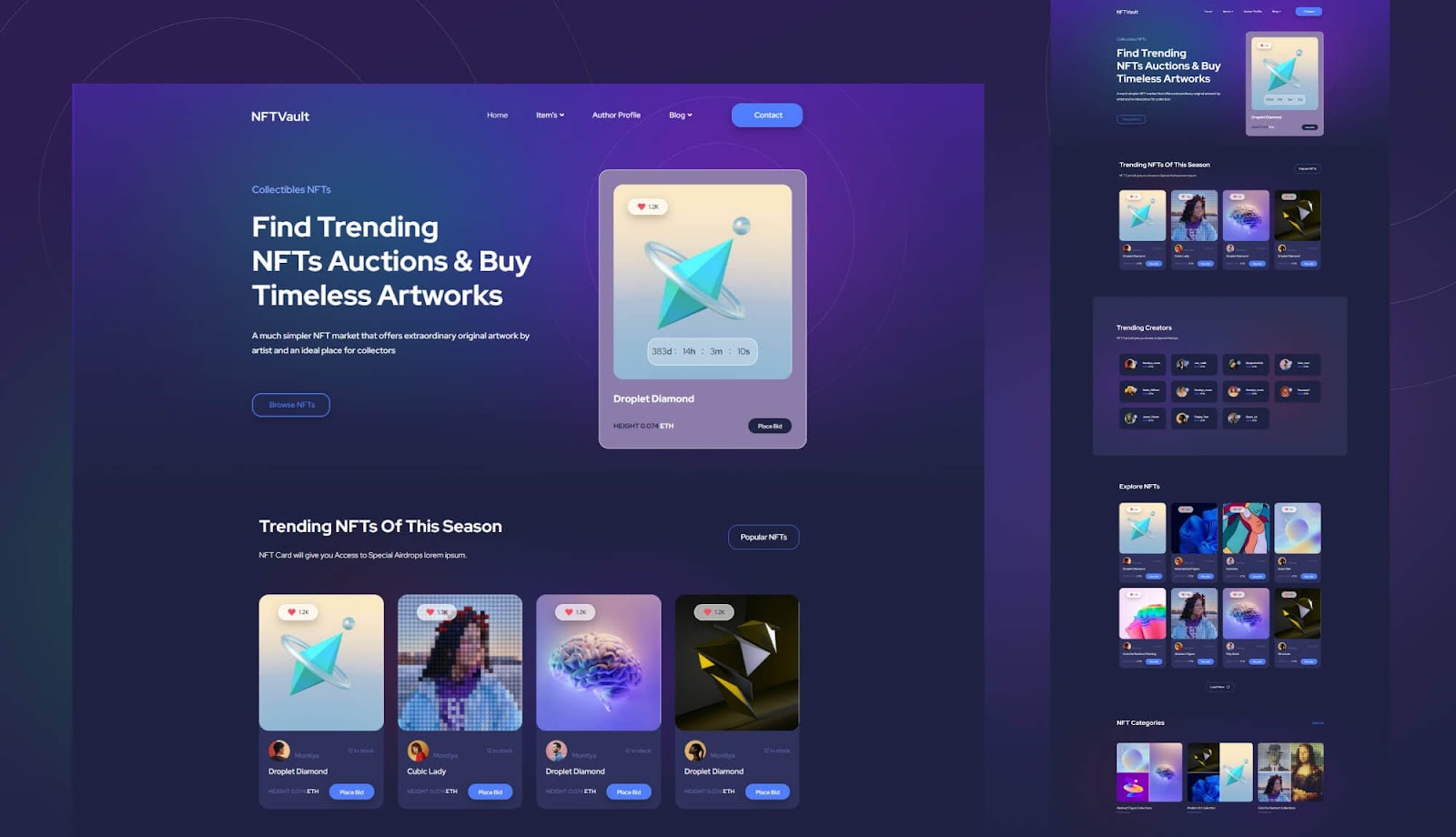 They are ready to use dynamic template packs, which are easily be implemented on Elementor Page builder. They provide eight attractive pages used to create the whole NFT website from scratch without any coding.
Home Page
Items Left Sidebar Page
Items Right Sidebar Page
Author Page
Item Details Page
Blog Page
Single Post Page
Contact Page
4. NFTrade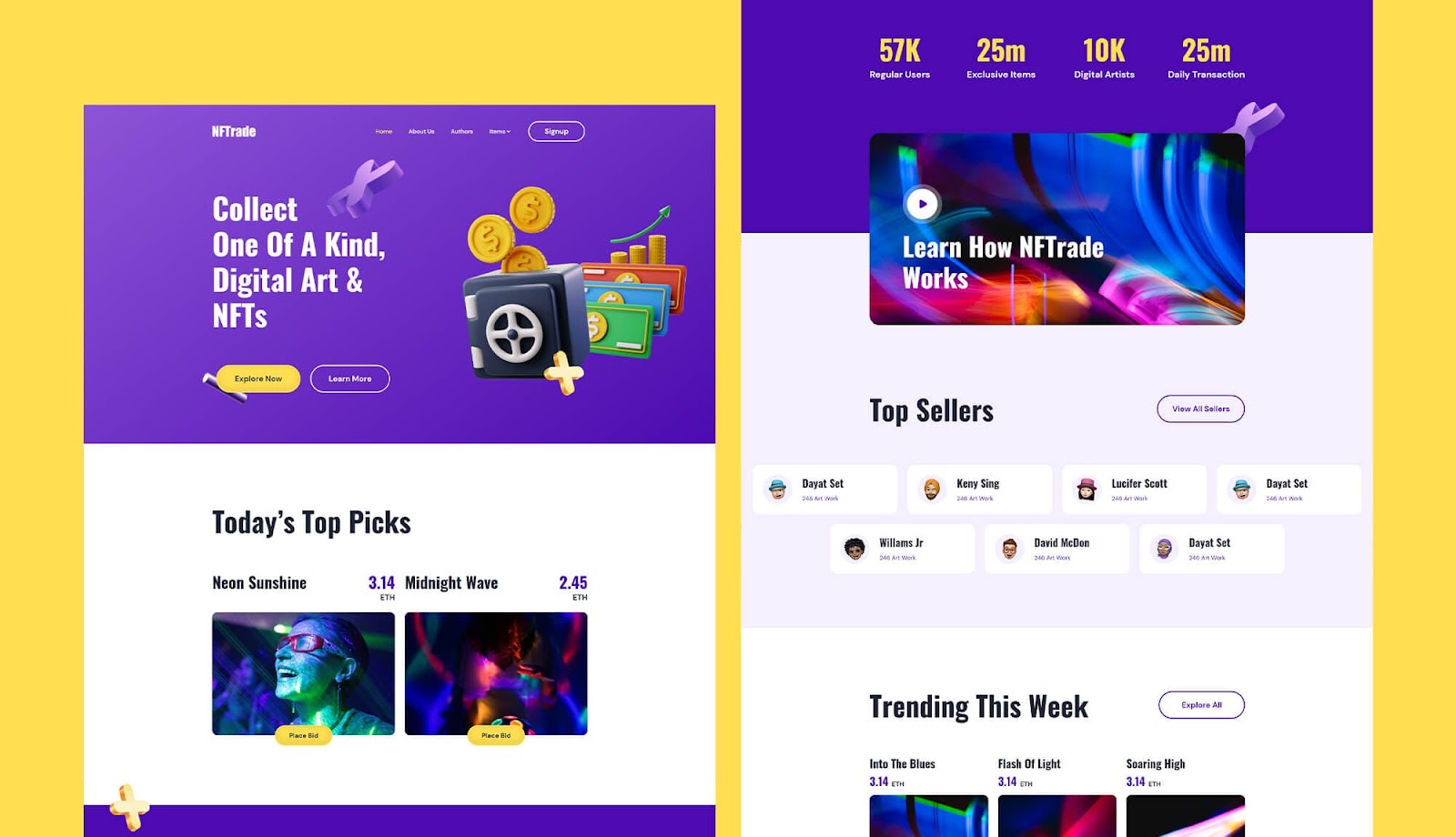 It is an NFT template marketplace used to create a website from scratch easily. Here, customization can also be done. It is ideal for creating NFT stories, Crypto markets, NFT agencies. Their premium templates pack includes five awesome landing pages to help you build an NFT website.
Home Page
About Page
Author Page
Items Page
Item Detail Page
5. NFT Gallery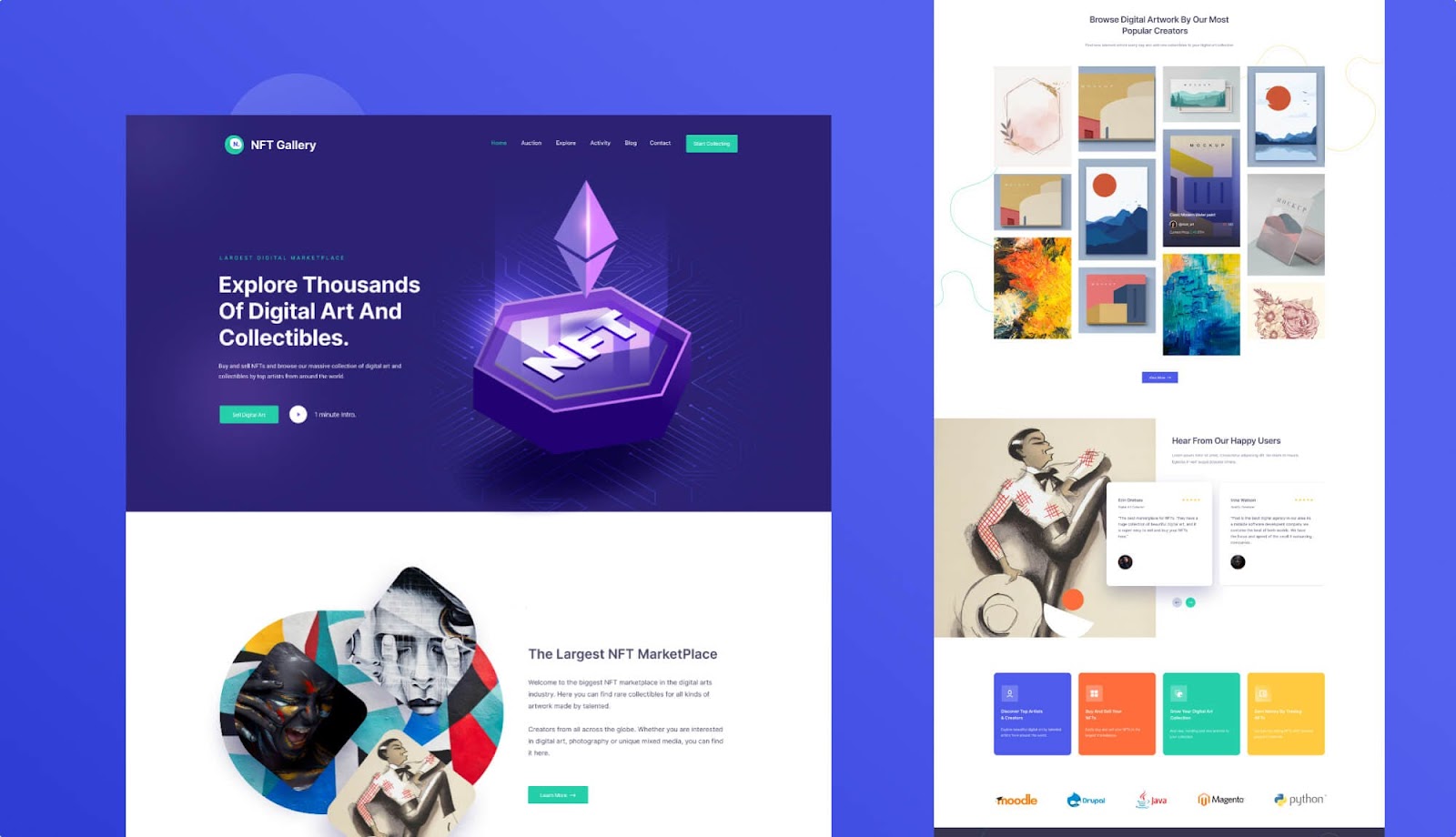 They provide a ready-to-use website template perfect for building a Blockchain website, NFT markets, and cryptocurrencies. In addition to 5 attractive landing pages, they provide Call-to-Action buttons, infoboxes, and other extra features, a bonus for any website.
Home Page
Activity Page
Category Page
Browse Page
Details Page
These 5 NFT website landing pages are convenient for creating your website to sell your NFT. Top players in this NFT also use these landing pages to make their websites. There are other landing page websites, but we think these are much better than others. Let us know which landing page website you choose to create your website.